LAW purchased and donated 18 animal oxygen mask kits to the Cartersville and Bartow County Fire Departments.  Now each vehicle is equipped with one, helping our fire departments more easily provide first aid to animals!
LAW Donates Animal Oxygen Mask Kits to Fire Departments
Special thanks to The Daily Tribune News for this story by Marie Nesmith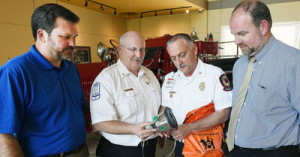 Thanks to a donation from the League of Animal Welfare, the Bartow County and Cartersville fire departments now will be equipped with animal oxygen mask kits.
"Any time we can do anything to improve our level of customer service is a positive thing," Bartow County Fire Department Deputy Chief Bryan Keeling said. "[That is] the way we look at it. There's a need for this — these particular items. It was not something that we could afford at the time, but with this donation we're looking forward to [having this equipment].
"… When we have a call, if somebody's pet … is in distress it will give us the capability to assist. Everybody's pet [is] a part of [their] family. We all have special places in our hearts for them. So we want to do everything we can."
On Thursday, LAW presented nearly 20 animal oxygen mask kits to the fire departments at the Cartersville Public Safety Headquarters.
"Each kit contains three different size oxygen masks for appropriate fit for cats, small to large dogs, and other small animals," LAW Vice-President Kathy Farnon said. "There is also tubing included, which is used to connect to the oxygen source. The masks fit snugly over the nose and mouth of the animal and oxygen is administered. An Ambu bag — used if the animal is not breathing to force oxygenated air into the lungs — can be attached to each mask if necessary.
"League for Animal Welfare initiated a membership/fundraising drive in February of this year to raise money for these masks and several upcoming projects and to heighten awareness of our organization and its mission. The company that makes the oxygen mask kits, Wag'N, has provided over 5,400 kits to over 2,500 fire departments since its inception. Since the first responders in the city of Cartersville and the fire trucks in the county are usually the first fire personnel on the scene they would be the ones who would find an animal that was overcome by smoke or toxic fumes. Until now they have not had a way of administering oxygen to these animals except by blowing it at the nose and mouth area with oxygen tubing."
Echoing Keeling's comments, Cartersville Fire Chief Scott Carter is grateful to LAW for helping equip his department's fire trucks with additional life-saving tools.
"It's actually something that we had within our plans that we were wanting to do," Carter said. "But financially, things get on a priority list. With the downturn in the economy, it's just very difficult for us to fund such an addition. So we were actually very excited about it, because it's something that we take very seriously. When you're responding to take care of all the citizens and guests and family members, lots of times [that includes] pets. That's part of someone's family. We've had several incidents over the years where we've attempted to save pets but maybe [we have] not had the proper equipment. Having this will help us be able to provide that service even more, which is very important to everybody.
"… It's just a good example of a public-government partnership — citizens coming together. Here in Cartersville, we've got a rich tradition over the 100 years of citizens stepping up to help us provide a better service for the community. We're just thankful. We're thankful that they thought of us. We're thankful of the work and effort that they put into it. It just makes our community a great place to live."
In its third year of operation, LAW is continuing its efforts to enhance the lives and treatment of animals in Bartow County.
"League for Animal Welfare was organized in 2012 by a group of citizens to expand the services that are currently offered in Bartow County, Ga., and to promote the humane treatment of animals," Farnon said. "LAW has assisted in making low-cost spaying and neutering available to the pet owners of Bartow County through Budget Vet and CatSnip. These two groups have mobile surgical vans that visit the county four [to] five times a month.
"CatSnip, which has been coming to Bartow County for many years and provides surgery for cats, has doubled [its] visits here due to increased public awareness. Budget Vet began visiting Bartow County in August 2012 and provides services for dogs, cats and other owned animals. Since August 2012, these groups have been responsible for spaying and neutering close to 2,000 animals, thereby helping reduce the number of unwanted animals. LAW is able to assist pet owners with the cost of surgery when necessary through grants from the Community Foundation of Northwest Georgia and fundraising."
In addition to promoting low-cost spay/neuter services, LAW also is trying to curb the practice of tethering dogs and is supplying cat and dog food to the Church of the Ascension's Food Pantry through donations and a grant from Community Foundation of Northwest Georgia.
With LAW receiving no government funding, grants and public donations are integral to its overall operations. For more information about the nonprofit, to contribute financially or inquire about volunteer opportunities, visit www.leagueforanimalwelfare.org.